August 10th, 2015 by Ron Treister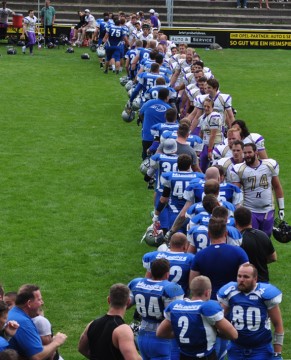 I spent some days in Germany last month, most of it actually being  vacation time. One reason was to see the last game of the 2015 season  played by the Pforzheim Wilddogs. Deutschlanders are big into American  football and believe it or not, there are well over 100 teams in the GFL  (German Football League). Mein Sohn (my son) Christopher is  quarterback of this team, and how could I miss the season's grand finale  against the fearsome Freiburg Sacristans?
It was great! Our team was flawless, winning 42-O. The Wilddogs  dominated their opposition in every phase of the game. If you were a  Freiburg player or fan, you'd be a bit embarrassed? (I think so… )
But at the end of the game, I witnessed something I haven't seen in many,  many years here in the States. Here were grown men, dedicated athletes,  queuing up in two lines to "high-five" each other and state "good game." I  saw handshakes, smiles and respect coming from players on both teams. It was a thing of beauty. When you think of these overpaid prima donnas playing in the NFL, these egocentric pinheads who don't know the word "we," these coddled children who profess to being "team members" but in actuality don't have a clue what "teamwork" means… seeing this blatant display of doing what we were taught as kids, was a wonderful sight!
In the business arena, it's best to believe that everyone's doing their best; everyone means well. And everyone's worthy of respect. Unless of course, they refuse to play by any of the accepted rules and maxims.
RT
---