June 18th, 2015 by admin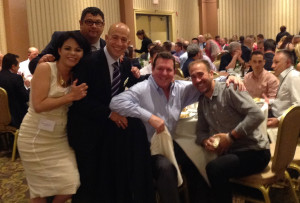 I'm sitting in front of Gate 5 at the Scranton Wilkes Barre Airport, getting ready to jump into the very minuscule, propeller plane en route to Charlotte, where I'll have a three-hour layover before my connecting flight to Palm Beach International takes off. Normally, just the thought of airports, going through TSA security, layovers, rushing through terminals and sitting in the plane not unlike a canned sardine… next to a new mom whose baby is either screaming or being breast-fed, all elicit high anxiety levels. Post 9-11 airport travel sucks.
But this time, it's different. I have this exhilarating feeling. I'm coming home after spending three days at the annual Arley Classic, a beaucoup extravaganza where our long-time client, Arley Wholesale Products, every year seems to do everything right… everything better than the previous year. To call the 2015 edition impressive, would be a gross understatement. It was, without question, one of the best "business gatherings" I have ever attended throughout decades as a marketing communicator. 
How did  Arley knock it out of the park? Well, first of all, the entire team functions as one professional unit. I've spent many a minute listening to clients' personnel talking behind their co-workers' backs, one person bashing another to ostensibly bolster their standing. Not at Arley. The entire staff, from seasoned owner to rookie, functions as one smooth-moving, totally professional entity. Each team member is a veritable campaign manager for the other. Positivity abounds at Arley, as well. The entire three days were put together seamlessly: trade show, golf, dinners, cocktail hour(s) and more, each one at optimal levels. On time, well attended, everything perfectly choreographed! Even the comedian, brought in to perform after the first night's dinner, exceeded all expectations!
And, why was this fun, worthwhile, highly professional gala event even better this year than in previous ones? My take is that as highly up-to-date as Arley is, I've noticed the one and only item the firm always toots its collective horn about pertains to tradition: how the company steadfastly sticks to the ideals of its founder, dating back to the mid-thirties. This credo includes: 
Being honorable in everything you do

Living up to your agreements; your word is your bond

Being loyal to your suppliers. They are the backbone of your business
The result is a highly advanced, extremely sophisticated, contemporary company that hasn't for one second forgotten its roots… or, the good old-fashioned business maxims it built its foundation upon.
This guy had such a good time. And from the first night's apres-dinner, awe-inspiring speech "The  Champ is Here" (manuscript available upon request) given by the firm's executive Vice President of Operations, Scott Levy, I knew this wasn't just any old business soiree; this was the epitome of a textbook-level company event. Not surprisingly, I was far from being alone with these thoughts.
Congratulations to Arley Wholesale Products on its 13th annual Arley Classic and Trade Show. It was a TEN. On behalf of Communicators International, Inc., let me emphatically state how proud we are to be the advertising & public relations firm for such an ultra-professional client that seems to exceed first-class levels on regular basis… with everything it does.
---